FILM MUSIK
This is a 10″ vinyl-only release including the music for a film that was never shot.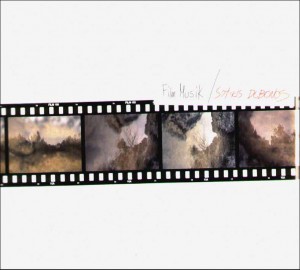 Is coming out in 500 numbered copies (and 25 numbered promo copies).
It includes also a cd-r with the tracks in mp3 format and avideo art inspired by the Film Musik tracks. The video art is captured and edited by Socos (of Socos & The Live Project Band).
Cinematic, minimal, improvisation – call it what you may. It transforms every time that you are listening to it. And althoughclassical guitar, violin and viola, nei, and percussion are the main instruments, you could swear that this material belongs to… electronica.
Musicians
S. Debonos: Guitars,  base, synths, loops  Sofia Kobotiati :nei  Giorgos Kitsios:  violin, viola Natassa Dipla : percusion  Chara  Demopoulou:  vocals
Side A
1. I
2. II
3. III
Side B
1. IV
2. V
3. VI